I'll be honest in that I was worried about running in shorts. The pesky
Burn
left me with a not so pretty looking leg. There were times that I honestly couldv'e and shouldv'e worn shorts instead of my capris but I was being vain and didn't want anyone really to see my leg. There was one run at the gym in March where I wore my shorts but other than that I've kepy my leg covered.
Last nights 6k run? I wore my shorts.It was hot out and I didn't even think about it at all till I was putting some body glide on. I figured I could head out anyways and see what happens. If it looked worse than I thought then hey I'd probley have a clear path and not have to weave around others(Gotta look for the postives right?). I kept getting looks from mostly guys during my run and in my head I was parnoid that they were WTF happened to her leg thoughts. Then I decided to take a picture this morning and share my leg here. Left leg BTW.
From like 3 feet away
The front up close(everywhere its spotty is where a blister was. Ouch.)
The back and side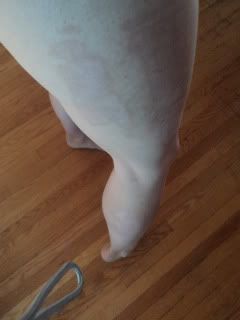 Welll.... theres really nothing to see. I mean there is but from a distance its not noticeable. It has to be up close to see the damage. I've since let myself think those guy.... yeah they were total checking me out.