1. So apparently you can hand me a sharp knife and I can work wonders with it. Mostly thanks to my awesome culinarly training skills. But ask me to wash the cheese grater in the sink? Not to much. My middle finger on the right hand is missing a bunch of skin off the top and man it hurts. Typing can be tricky not using that finger to much.
2. I'm signed up again to do the
Daring Kitchen's
Baker's Challenge. Its a site that has monthly food challegnes for Savory Meal stuff and Baking. You find out what you make on the first and you have to make it and post it on your blog no earlier than the 27th each month. You can make it whenever in month but no posting earlier. I've made
A Dobos Torte
Covered Marshmellow Cookies with Homemade Marshmellows.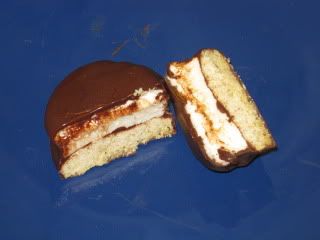 and Milan Cookies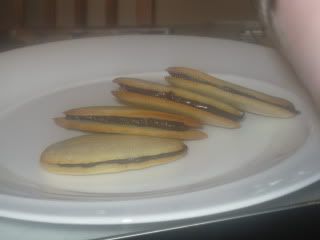 Can't wait to see whats in store for April.
I'll post my stuff here.
Cooking Blog
and I'll link here in case anyone forgets.
3.Hubby's and Mine Portaging trip is offically booked for early August. We'll spend 4 days togther in Algonqin Park hiking and canoeing. Major Kudos to
The Portage Store
. Thanks to them, us newbies at this can show up with our clothes and other needs and they make sure we have everything else. Tent, canoe, food, a route(You can plan your own but we had no clue). Very excited can't wait!