So true to my word I got my 12k in yesterday. I didn't head out as early as I originally planned but it worked out well. I decided to try an out and back on the trail. I'd say it was about half clear of snow/ice. My only real issue...ok well two issues... were that its an awkward time of year for me to pick out running clothes. I wore what was usually appropriate for the weather but didn't take into account that the sun is getting warmer while out. So at one point I took off my headband/ear cover thingy and had to take off my jacket since opening the vents on the side AND undoing the zipper were not enough. Of course it was still chilly out so that lasted just under 2km. The other issue is that I didn't bring water with me and while it was fine, with about 3k to go I saw that someone left a bottle at one of the parking lot picnic tables and I realized I really wanted some. Never crossed my mind until then. Hmmm.
Saturday is Quinn's first race of the year!
He's doing the kids fun run at
He's very excited.
I even found a kids technical long sleeve at Walmart of all places for $6. Its a bit big on him, but I couldn't pass up that deal.
Some "practice runs" in his new shirt.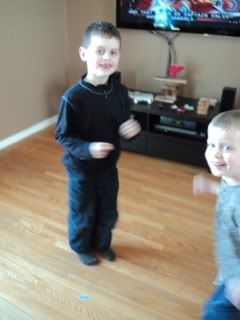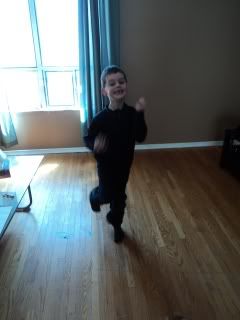 Doesn't he look awesome?