So I've discovered the yummy Clif Bars.
I think they are awesome, but my wallet isn't to fond of the price. Therefore I went hunting for a homemade verison. I found
THIS
and gave it a try. Its' not quite the same thing, but yummy and hey you can't go wrong with the price. I found everything I needed but the brown rice syrup at Bulk Barn. I went to Loblaws and they had it there though.
For those to lazy to click.
Homemade No-Bake Clif Bars
1/4 cup crisp rice cereal (or puffed cereal)
1 2/3 cup quick-cooking oats
1/3 cup brown rice flour
3 Tbsp. ground flax seed
1/4 cup dried fruit*
1/4 cup chopped nuts*
1/4 cup (heaping) brown rice syrup
2 Tbsp. brown sugar (or evaporated cane juice)
1/3 cup natural nut butter
1 tsp. vanilla extract
Directions:
1.Line an 8 x 8 pan with parchment paper or aluminum foil and lightly spray.
2.Combine the first 6 ingredients in a large bowl (Cereal –> Nuts)I did the chocolate chip ones btw.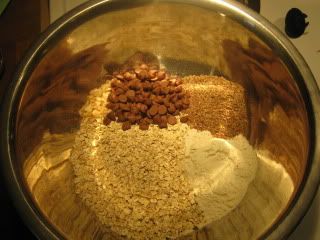 3.In a small saucepan, combine the brown rice syrup & brown sugar. Bring it to medium heat and stir often until it starts to get thin & runny. Add in the nut butter and heat an additional minute (until it feels smooth and runny). Remove from heat and stir in vanilla.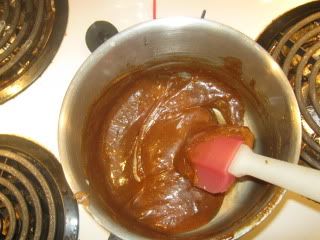 4.Pour the saucepan mixture over the dry mixture and stir until completely coated.
It will be stiff and start to resemble a big ball of dough. It's best just to get your hands dirty and knead all the ingredients together! If you knead it for a while and it still feels crumbly, add a splash of milk until it all forms together.
5.Press the mixture firmly into the pan. Don't be afraid to really pack it in there (the better you do, the better it will stick together).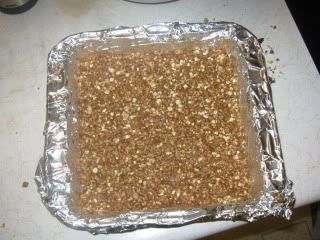 6.Let cool completely (I popped mine in the fridge) and then cut into bars.
Flavor Variations:
Black Cherry Almond- Use dried cherries for the fruit & almonds for the nuts
Blueberry- Use dried blueberries for the fruit
Carrot Cake- Use dried carrots instead of the fruit & add some cinnamon, nutmeg, allspice
Chocolate Almond Fudge- Replace the brown rice flour with cocoa powder & use almonds
Chocolate Chip- Replace the dried fruit with chocolate chips
Crunchy Peanut Butter- Use dates for the dried fruit (or omit) & use peanuts
Iced Gingerbread- Replace some of the brown sugar with molasses & add ginger, cinnamon
Maple Nut- Replace the brown sugar with maple syrup
Oatmeal Raisin Walnut- Use raisins for the dried fruit & walnuts for the nuts
White Chocolate Macadamia Nut- Replace the dried fruit with white chocolate chips.
I made the same weight/size as a Clif Bar and got 8 bars out of this recipe.
ENJOY.